Menus and Recipes in The Instinct Diet
The Instinct Diet is more than a weight loss book. It's also a diet cookbook with over 100 recipes.
The Instinct Diet provides you with options to help weight control. There is great behavioral advice including proven strategies available in no other publication to allow you to design your own effective way to lose weight and keep it off. There is also an 8-week program that makes weight loss easy with different ready-made plans designed for meat eaters, vegetarians, people who never cook, and people who love to!
Even if you don't usually cook you may find the delicious, varied easy recipes tempt you into the kitchen — your friends and family will never know they are eating diet food!
Notes:  Vegetarian adaptations are given for most with-meat recipes.
Some of these recipes link to free recipe pages so you can sample them.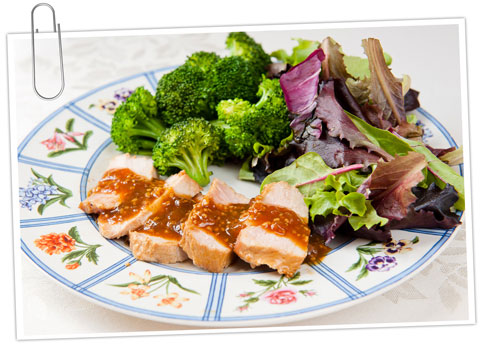 Breakfasts
New-Fashioned Hot Cereal
"I" Diet Instant Hot Cereal
Hot Cereal with Maple Syrup and Blueberries
Hot Cereal with Raisins, Pecans and Cinnamon
Better than Instant Hot Cereal
Vegetable "frittata"
Bacon and Eggs Breakfast
Orange-Crumbed French Toast
Chocolate Pecan Breakfast Bars
Homemade Cinnamon Apple Sauce
Spicy Prunes
Plum Compote
Great German Rolls
Soups
Easy Tomato, Barley and Basil Soup
Tangy Gazpacho
Carrot and Ginger Soup
Costa Rican Black Bean Soup
Rich Chili Soup
Tuscan Minestrone
Port and Lemongrass Soup
Beef and Barley Soup
Spicy Stew, North African Style
Potage of Lamb and Winter Squash
Sandwiches and Wraps
"I" Diet Soda Bread
"I" Diet Chicken or Tofu Salad
"I" Diet Tuna Salad
The American Classic Sandwich
The New Yorker
Italian-Style Panini
Indian Kebab Wrap
Salads
"Sallat" of Field Greens and Herbs
Apple, Walnut and Blue Cheese Salad
Iceberg Wedges with Blue Cheese
Bibb Salad with Mushrooms and Shaved Parmesan
Watercress and Orange salad with Parmesan Toasts and Hummus
Tomato Salad
Tarragon Dressing
Tomato-Cucumber Salad with Greek Dressing
Cucumber-Mint Taita
Coleslaws:
Classic Coleslaw
Asian Coleslaw
Crisp Fennel Salad
Thai Chicken Salad with Warm Peanut Sauce
Curried Chicken Salad on Field Greens
Wheat Berry Salads
Wheat Berry and Cilantro Salad
Wheat Berry, Raisin and Pine Nut Salad
Crispy Taco Pinto Bean Salad
Drinks
Refreshing Limonata
Fennel Infusion
Kenyan Chai
Masala Tea
"I" Diet Hot and Cold Chocolate
A Celebration Dinner for Eight:
Potage St. Germaine
Roast Tenderloin of Beef with Porcini Mushroom Gravy
Lemon-Braised Artichokes
Green Beans with Caramelized Onions
Warmed Bread with butter, for people who are not dieting
Kirsch-Marinated Peaches
Fine Chocolates
Main Courses
A Really Good Hamburger
Vegetarian Burger Delight
Florentine Steak
Veal Scaloppine in Creamy Mushroom Sauce
Grilled Pork Tenderloin
Hoisin Pork Tenderloin
BBQ Pork
Home Run Hot Dogs
Mexican Lettuce Wraps
Tanzanian Chicken Kebabs
Arista Chicken
Chicken Parm
Perfect Grill with Creamy Mustard Sauce
Halibut with Tomato-Cumin Sauce
Baked Salmon with Lemon-Dill Sauce
Seafood Stew in Tamarind Broth
Cajun Cod
Spicy Tofu and Mixed Vegetable Stir-Fry
A Taste for Tofu
Broiled Tofu
Tofu Alfredo
Tofu Parmigiana
Hoisin Tofu
Steamed Tofu and Mixed Vegetables with Warm Peanut Sauce
Barbeque Vegetable Pizza
No-fuss Pizza
John's Pasta Supper
Northern Italian Lasagna
Stuffed Green Peppers
Boiled Barley
Mushroom and Barley Risotto
Keep-Your-Kids-Company "Macaroni and Cheese"
Mixed Vegetable Curry
Chickpea Masala
Moong Dal Stew
Lemon and Date Chutney
West African Bean Cakes with Spicy Dip and Green Salad
Cooked Vegetables
Stuffed Potato Skins
Florentine Braised Kale
Healthy Collard Greens
Perfect Ratatouille
Classic Red Cabbage with Apples
Helen's Red Flannel Cabbage
Summer Squash with Butter and Sage
Zesty Baked Beans
Tuscan Beans with Rosemary and Olive Oil
Black-Eyed Peas
Desserts
"I" Diet Cereal Desserts
Chocolate Cereal Dessert
Ice Cream Sundae
Ginger-Pecan Crunch
Chocolate-Raspberry Parfait
Chocolate Pudding I
Chocolate Pudding II
Orange Flan
Chocolate Bread Pudding
Indian Barley Pudding
Baked Apples with Figs
Almost Apple Cobbler
Frozen Fruits
Chocolate-Tipped Strawberries and Cream
Vanilla Spice Cookies
Snack Attack Packs
Salty Snack Attack Pack
Sweet Snack Attack Pack
Trail Mix Snack Attack Pack
Rhubarb Yogurt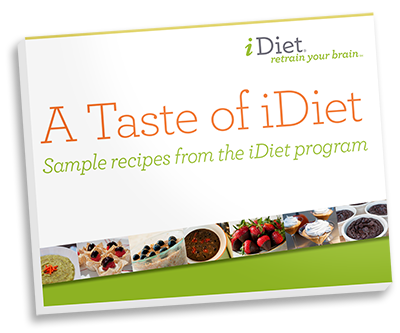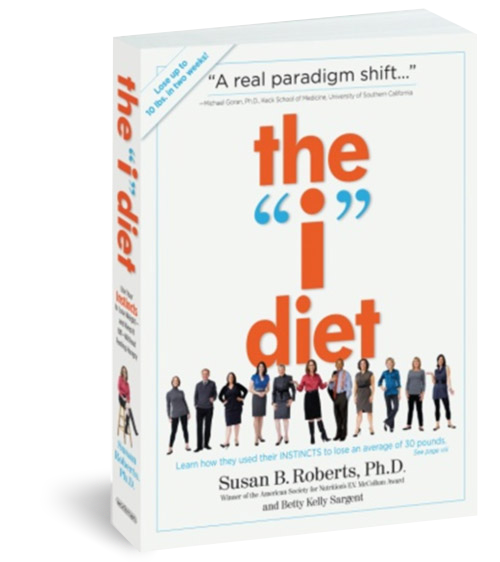 Endorsed by an unprecedented number of
top weight control experts.
"This clearly written book doesn't promise magic. It does something better: It arms you with the tools to create a diet that you can enjoy and stick with for life. And Dr. Roberts's recipes are terrific."
— Susan K. Fried, Ph.D., Professor, University of Maryland School of Medicine
"Susan Roberts, a top-rate expert, has crafted her studies into an innovative program that offers new ideas and a plan designed around both health and weight loss as goals."
— Kelly D. Brownell, Ph.D., Professor of Psychology, Epidemiology and Public Health Director, Rudd Center for Food Policy and Obesity, Yale University, and author of Food Fight
"Sue Roberts is dead-on with the five food instincts she describes. Drawing on solid research evidence and filled with specific and creative 'how to's' for managing these instincts, THE INSTINCT DIET is an eating plan I will recommend to others … and use myself!"
— Megan A. McCrory, PhD, Purdue University
"Drawing upon her extensive experience in obesity research, Roberts, with co-author Sargent, has written a highly readable and eminently practical guide to losing weight and then maintaining the loss. This is a great example of how science should inform public policy, as well as individual behavior."
— Robert Russell, MD. Editor, Nutrition Reviews
"With approaches tested at the highest critical level, this book should set a new standard in educating readers on the science and practice of weight management and control."
— Irwin Rosenberg, MD, Chair, Food and Nutrition Board of the National Academies of Science
"Susan Robert's Instinct Diet is based on sound nutritional theories and is a healthy and sensible way to lose weight."
— June Stevens, PhD, Chair of the Department of Nutrition, University of North Carolina
"This book expertly organizes and interprets scientific studies, turning them into small, understandable pieces of information that can be readily applied to even the busiest life. The abundance of practical tips and delightfully fresh recipes make reading this book a must for any person desiring to lose weight and keep it off."
— Mel Heyman, MD, MPH, UCSF Children's Medical Center University of California, San Francisco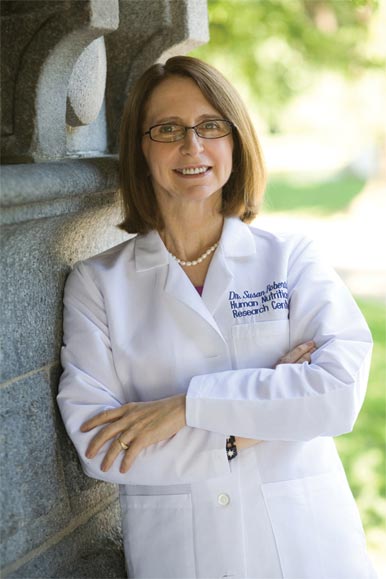 Dr. Susan Roberts
Author
Susan B. Roberts, PhD, professor of nutrition and professor of psychiatry at Tufts University, is an internationally recognized expert on nutrition and weight control. She is the author of Feeding your Child for Lifelong Health, as well as nearly 200 articles published in research journals including The New England Journal of Medicine, JAMA and The Lancet. Dr Roberts lives with her family in Weston, Massachusetts.
Download a free sample menu from the book.
An important reason for the astonishing success of the Instinct Diet is that the menus are truly satisfying and also taste great. You don't have to follow the menus if you prefer to eat your own food, but Instinct dieters learn that Dr Roberts' menus are very special — providing exceptional hunger-free satisfaction so that you can lose weight more easily while seeing what really works for you. For comments on menus, take a look at the Amazon site and see many unbiased reviews!
There are wonderful menus for everyone in The Instinct Diet, whether you love to cook or never go in the kitchen, and whether you enjoy meat or prefer vegetarian meals. The menu below is just one "with-meat" example day showing how well you can eat when you diet the Instinct Diet way.