iDiet in the news and on TV
Weight loss without deprivation
Boston's ABC Channel 5 newsmagazine show "Chronicle" profiled Dr. Roberts' iDiet program.
Significant weight loss
Boston's WCVB Channel 5 news reports on Dr. Roberts' diet reducing hunger and retraining the brains of workers at Boston's Museum of Science — in some cases losing over 70 pounds.
National coverage on The Today Show
The Today show reports on Dr. Roberts' groundbreaking fMRI brain scan study showing iDieters' brains change to prefer healthier foods.
Featured in: The Nature of Things: Food for Thought documentary "How to Lose Weight Without Giving up Everything You Love"
Susan Roberts PhD, featured in Nature of Things documentary Food for Thought, is a leading nutrition researcher, professor of psychiatry at the Tufts University School of Medicine, and the author of more than 250 research studies on nutrition and weight management. She has devoted her career to helping people with weight problems eat better, and is also the creator of the iDiet, a popular weight-loss program featuring recipes she developed herself. READ MORE
Press Release About The Instinct Diet
by Workman Publishing
Millions of Americans make the New Year's resolution every year to shed those extra pounds. We try the latest fad diets offering quick weight loss, or sigh and resign ourselves to the hard slog of counting calories or points. The end result is always the same: We lose a bit (if we're lucky), get frustrated, give up, and then gain the weight right back again. Why do diets fail? Why are they so hard? And is there a better answer for those who want to lose weight—an easier way to shed those points and keep them off so we can feel better about ourselves, look better, live a healthier lifestyle—and finally fit back into all those clothes in the back of the closet that used to fit so well?
"Too often, diets suggest that you squash down your instinctive feelings to eat, "says Dr. Susan Roberts, an internationally recognized expert on nutrition and weight control, a professor of nutrition and a professor of psychiatry at Tufts University, and author of The Instinct Diet: Use Your Five Food Instincts to Lose Weight and Keep It Off (Workman Publishing), the most science-based diet book ever written, a revolutionary new approach to dieting. "The Instinct Diet puts hunger suppression, satisfaction and enjoyment first using proven new approaches not available in other diet books. It works by getting your natural food biology working for you—rather than against you as it does so often—to make weight loss easier while teaching dieters how to recognize, control and retrain the instinctive eating behaviors that all humans are born with."
Using her in-depth knowledge of both nutrition and psychology, Dr. Roberts has created a uniquely science-based, easy-to-implement plan for safe, healthy and permanent weight loss that combines biology, psychology and healthy eating—something that no other diet plan does. Inspired by Dr. Roberts's stunningly successful dieting program at Tufts University, in which 85% of the dieters lost 10 to 50 pounds and 90% kept the weight off for at least a year, with 20 years of research and hundreds of independent scientific studies by other top weight control experts, The Instinct Diet shows us for the first time how to recognize and take charge of our food instincts. These hardwired instincts that tell us we want to satisfy our hunger and eat a wide variety of food whenever it's available (particularly if it's calorie-dense and familiar) have been critical to our survival as humans. But today they are leading millions down the path to obesity.
Dr. Roberts then shows different ways to use the book, so that we can go it alone with behavioral advice or follow her easy eight-week, three-stage plan that offers menu plans, more than 100 recipes (with vegetarian and "non-cook" options throughout), shopping tips, motivational advice to keep dieters on track even during major holidays and eating out, sidebars with tips and techniques for effective weight-loss, and helpful charts to track progress. The recipes in the book are scientifically formulated to work with—rather than against—the food instincts and they are sure to keep dieters satisfied and hunger-free. These delicious foods will be popular with the whole family and are especially helpful for dieters—they not only suppress hunger but also combine different types of fiber that provide metabolic benefits, rich satisfying flavors without too many calories, and familiar tastes that will keep dieters motivated and comfortable with the variety of foods they get to eat on the plan. And, for the perfect filling, and satisfying snack, there is "I" Diet Soda Bread: With only 72 calories per slice, this tasty homemade bread is simple to make, contains a nice amount of fiber, has a dense, appealing texture, and slows digestion to keep you feeling full longer.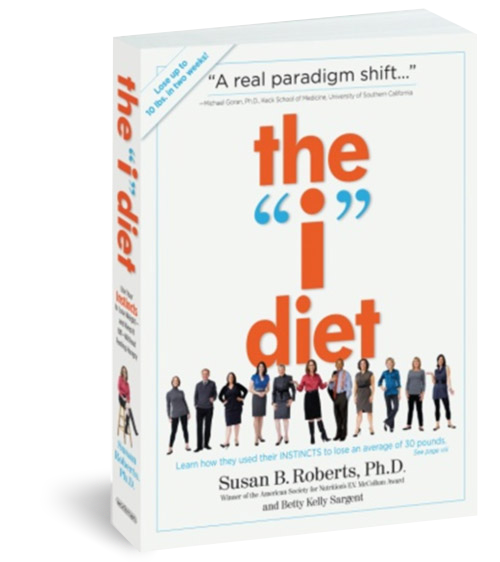 "Many of the other diets out there are based on principles that simply don't work for more than a while," states Dr. Roberts. "The "I" Diet is not about deprivation or eating in small amounts, two factors that go against our basic, instinctive behavior. It is about teaching us how to use our natural biology and find the balance we need to lose weight naturally while eating well with healthy enjoyment." The Instinct Diet advocates a greater variety of foods without losing the foods and flavors that we enjoy. The menus instill good food habits and good meal routines, lessons that will be invaluable in keeping the food instincts at bay and creating a successful weight maintenance plan in Stage III of the diet.
For everyone who thought weight-loss is impossible, The Instinct Diet gives dieters the tools they need to finally succeed and clearly shows that losing weight can be an enjoyable and positive experience.