What is The Instinct Diet?
Learn About Your Five Food Instincts
THE INSTINCT DIET is the most science-based weight loss program ever designed. It's a diet that genuinely deals with problems like feeling hungry or deprived. A diet unequivocally healthy for you, grounded in the metabolic, genetic and psychological workings of the human body. A diet where there are enough options so you can pick and choose what is right for you depending on who you are and the life you lead. If you love to cook there are delicious recipes to enjoy like Orange-Crumbed French Toast, Tuscan Minestrone, Cajun Cod and Chocolate Bread Pudding.
Easy and flexible  If you are too busy or hate to cook, there are tasty menus for simple meals that use ready-prepared foods from your local supermarket. And both omnivores and vegetarians are well served with a complete line of menus and recipes.
THE INSTINCT DIET is a diet that works, combining proven strategies from Dr Roberts' research at Tufts — where volunteers lost 10 to 50 pounds and kept the weight off for at least a year — with other good proven research from around the world. The secret of THE INSTINCT DIET lies in understanding that we have just five built-in food instincts which are consistent in all research on these topics and observations of eating habits worldwide. Unlike other topics in nutrition where scientists frequently disagree, these five topics are remarkable for the fact that virtually every research study agrees on their importance. By bringing research from hundreds of studies together into one simple-to-understand program, THE INSTINCT DIET not only lets us understand the eating habits that have led many of us down the path to overeating, but teaches us how we can control the controls. The result? We can lose weight more easily, stay in control, and still enjoy the foods we love.
How the Instinct Diet works
To satisfy hunger, build meals around foods that are proven to make you feel full. To counter the availability instinct in our food-food-everywhere culture, learn to fight the Gulping Syndrome and why simple strategies like eating at regular times help actually cut hunger to make weight loss easier. Cope with cravings for calorie-dense foods with effective strategies, including the "I" Diet bonus treats without losing the pleasure of eating. And learn how to deal with the bookend problems of familiarity, with its powerful "comfort food" triggers and variety, which turns us into passive overeaters.
After explaining the five food instincts and how to use them to design your own weight control program, and a ready-made program for weight loss and lifelong maintenance, THE INSTINCT DIET includes a full range of weekly menus — for cooks and non-cooks, omnivores and vegetarians — and over 100 recipes. Throughout are dozens of new motivational and behavioral tips available in no other publication. For example, did you know that tapping your forehead is an emergency measure to quell a sudden craving?
So don't follow your instincts — lead them. And discover a diet that will change your life.
Dr. Roberts' research has described 5 universal food instincts that control our eating behavior, and our weight. 
Hunger
We need to satisfy our hunger. We like feeling full. We see this instinct in newborn infants, and we know this is not something they have learned; it is an innate need built into us to ensure survival. 
Availability
We eat just because the food is there. And — here's the thing to watch out for — we want to eat more when more food is there for the taking. This instinct is meant to protect us from famine, but in a food-rich world, it makes us fat. 
Variety
We are instinctively attracted to a variety of foods, and we eat considerably more when we're presented with more choices. This instinct helps us consume a broader range of nutrients to keep us healthy. But in a world of manufactured foods, it mostly results in eating more calories. 
Calorie Density
We love to eat and we love food, especially when it's loaded with calories. This is true in every culture, even if the specific foods vary between cultures. This instinct also helped us survive famine by fattening us up when scarce calorie-dense foods were available. The problem is, now too many of our available foods are calorie-dense, yet not nutritious. 
Familiarity
We enjoy eating foods that are familiar to us. We associate these foods with feeling safe and comforted, and we have triggers that can drive us to eat them again … and again. This instinct protected us from eating poisonous foods, by biasing us to eat foods that were already proven safe. When you add availability, advertising, and calorie density, can you see how this could quickly cause problems? 
It's not your fault. Can you see how our modern food environment combined with our hardwired instincts creates a perfect storm of eating signals? Can you see how willpower alone is not enough to withstand all the triggers? iDiet provides the answer.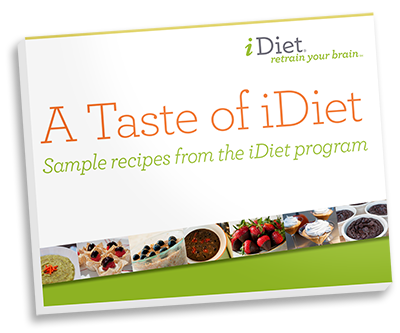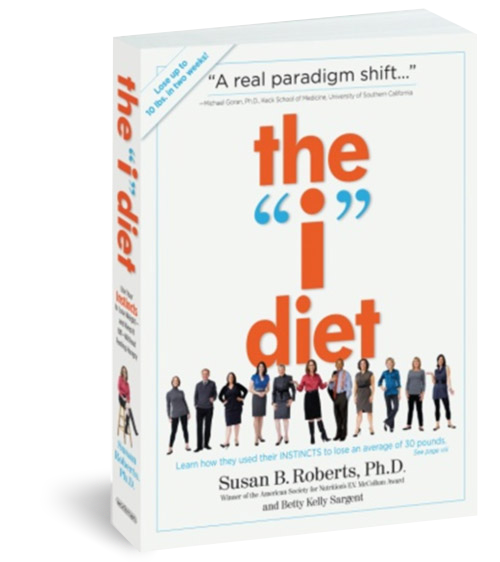 Endorsed by an unprecedented number of
top weight control experts.
"This clearly written book doesn't promise magic. It does something better: It arms you with the tools to create a diet that you can enjoy and stick with for life. And Dr. Roberts's recipes are terrific."
— Susan K. Fried, Ph.D., Professor, University of Maryland School of Medicine
"Susan Roberts, a top-rate expert, has crafted her studies into an innovative program that offers new ideas and a plan designed around both health and weight loss as goals."
— Kelly D. Brownell, Ph.D., Professor of Psychology, Epidemiology and Public Health Director, Rudd Center for Food Policy and Obesity, Yale University, and author of Food Fight
"Sue Roberts is dead-on with the five food instincts she describes. Drawing on solid research evidence and filled with specific and creative 'how to's' for managing these instincts, THE INSTINCT DIET is an eating plan I will recommend to others … and use myself!"
— Megan A. McCrory, PhD, Purdue University
"Drawing upon her extensive experience in obesity research, Roberts, with co-author Sargent, has written a highly readable and eminently practical guide to losing weight and then maintaining the loss. This is a great example of how science should inform public policy, as well as individual behavior."
— Robert Russell, MD. Editor, Nutrition Reviews
"With approaches tested at the highest critical level, this book should set a new standard in educating readers on the science and practice of weight management and control."
— Irwin Rosenberg, MD, Chair, Food and Nutrition Board of the National Academies of Science
"Susan Robert's Instinct Diet is based on sound nutritional theories and is a healthy and sensible way to lose weight."
— June Stevens, PhD, Chair of the Department of Nutrition, University of North Carolina
"This book expertly organizes and interprets scientific studies, turning them into small, understandable pieces of information that can be readily applied to even the busiest life. The abundance of practical tips and delightfully fresh recipes make reading this book a must for any person desiring to lose weight and keep it off."
— Mel Heyman, MD, MPH, UCSF Children's Medical Center University of California, San Francisco